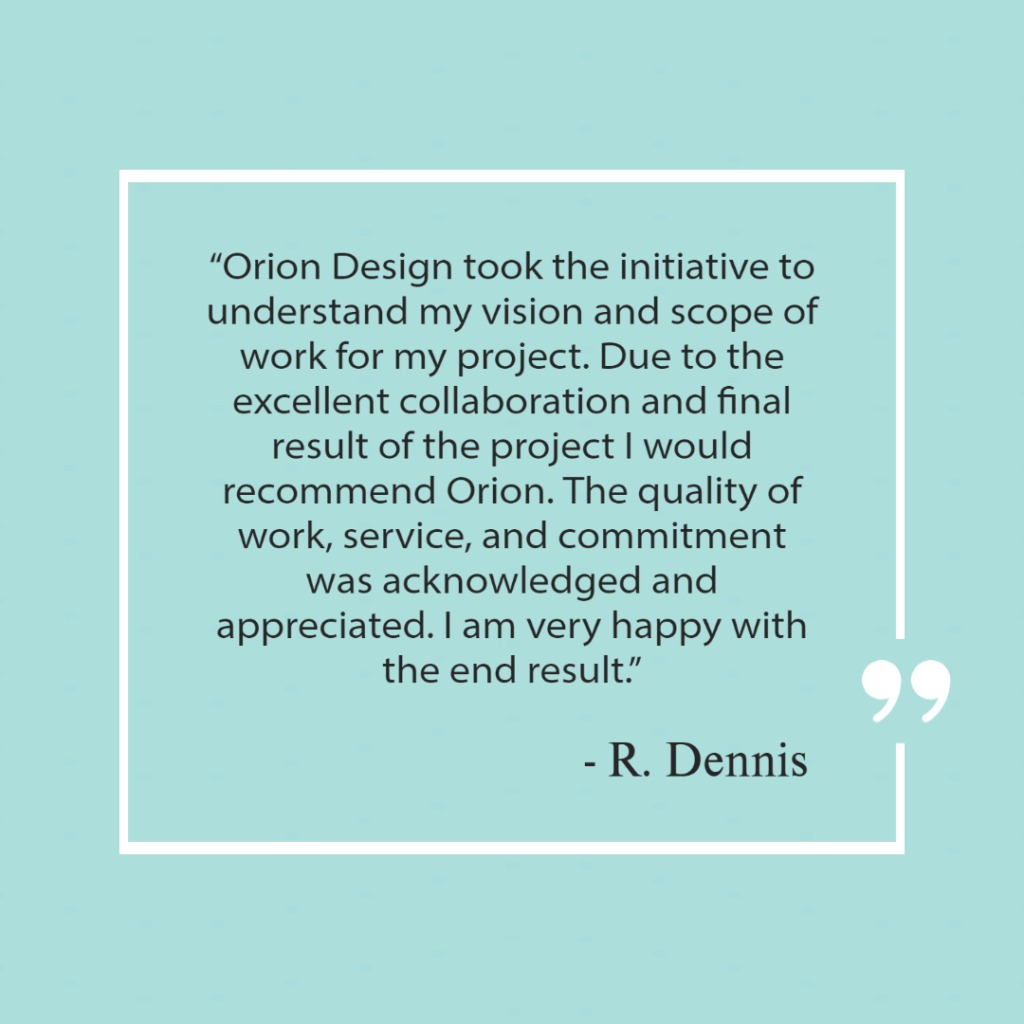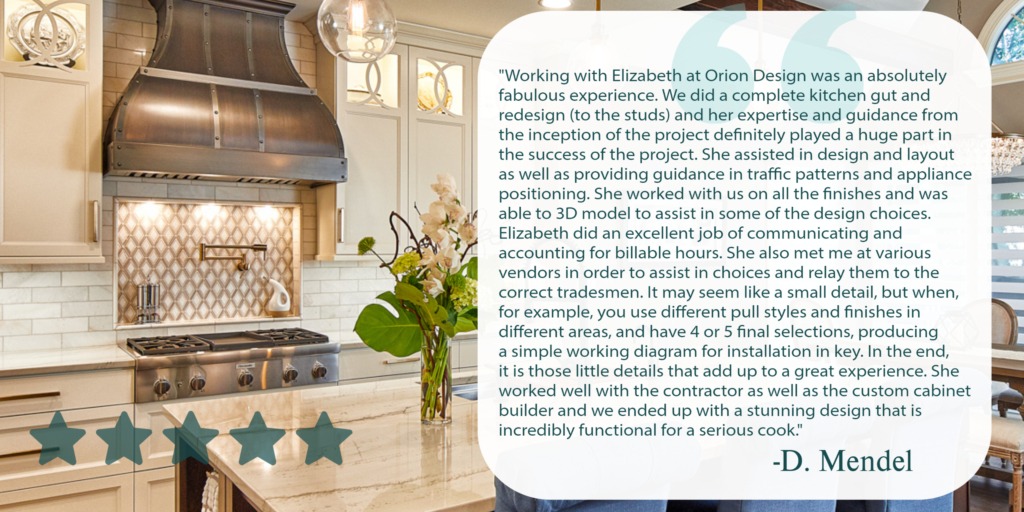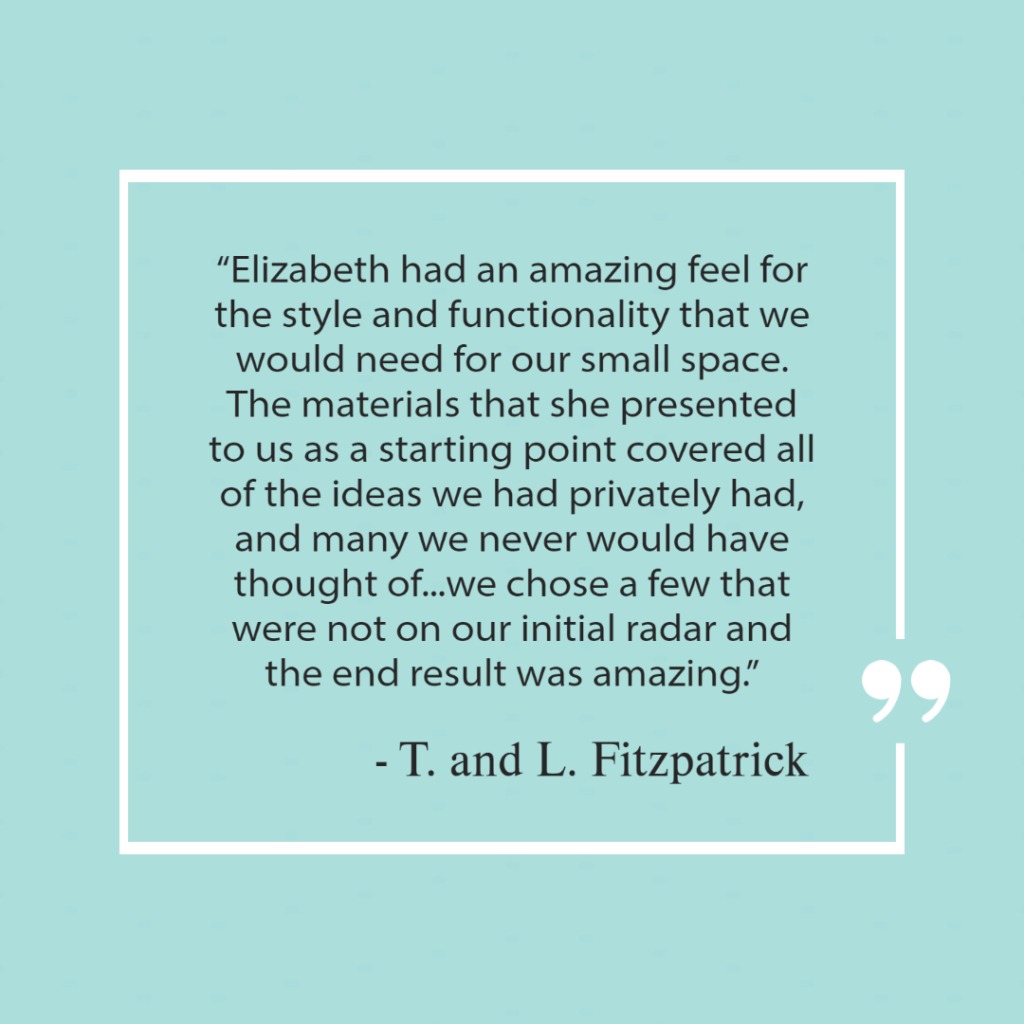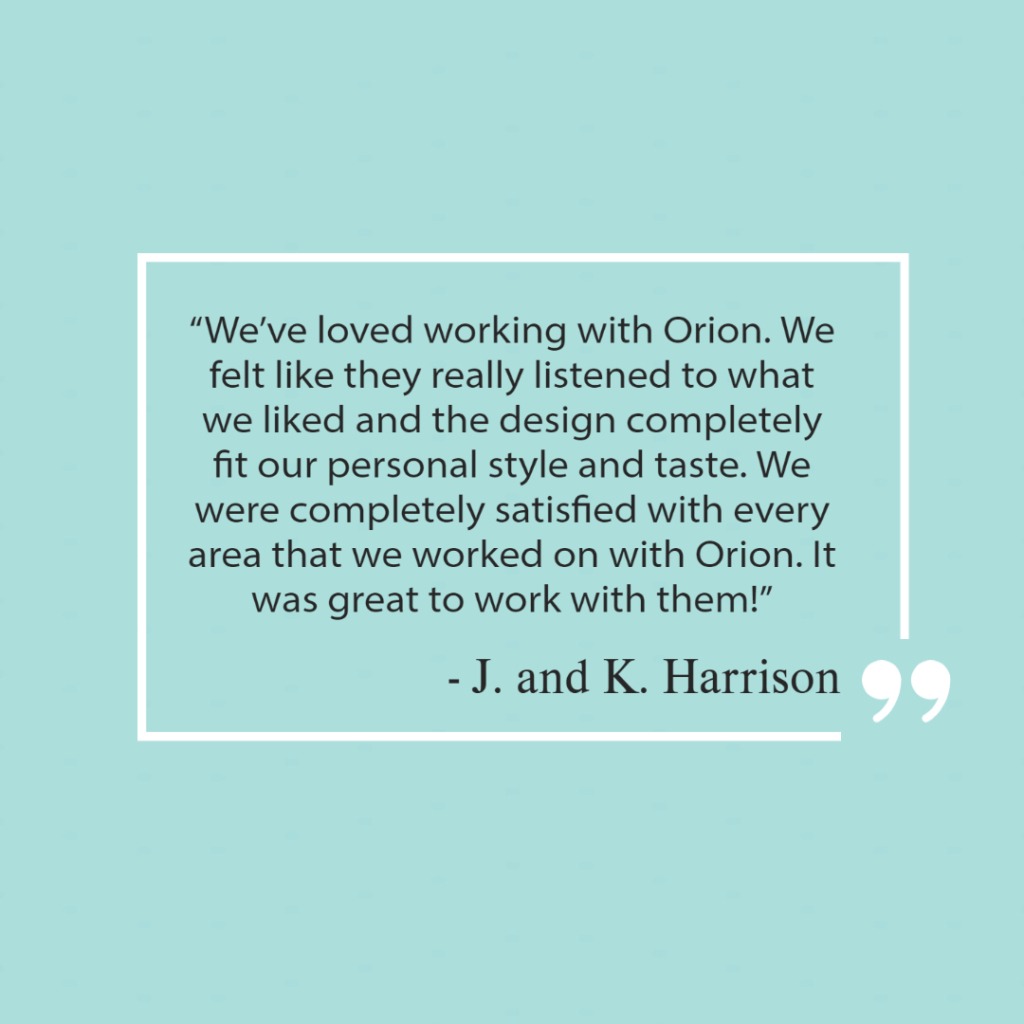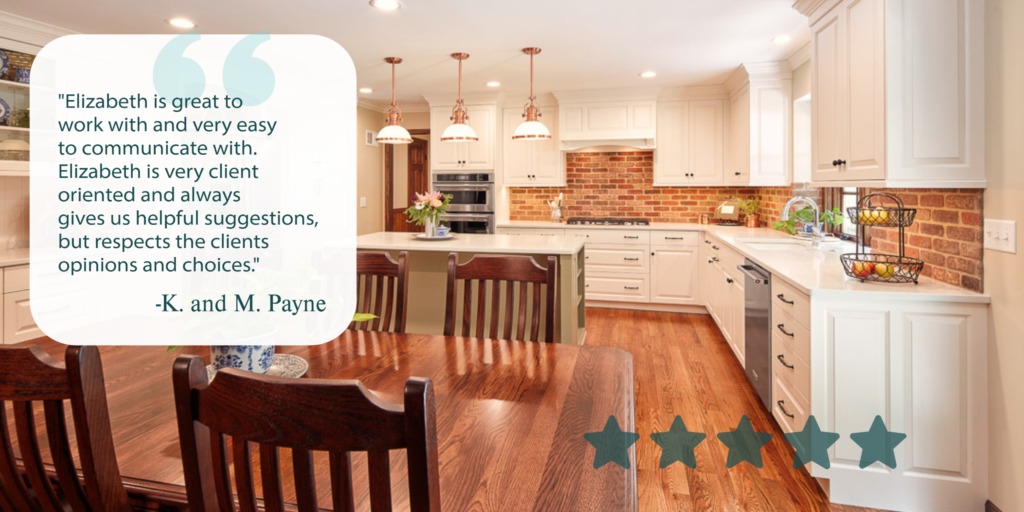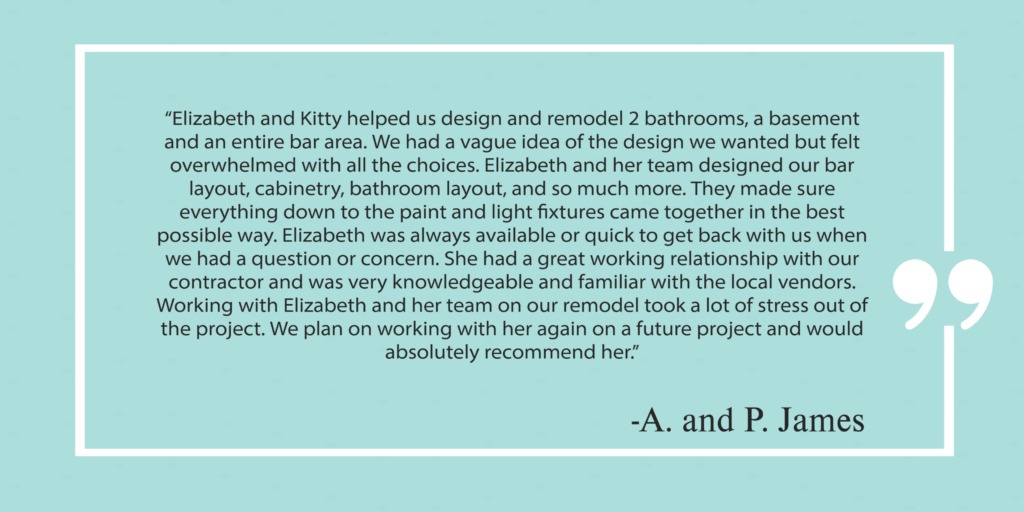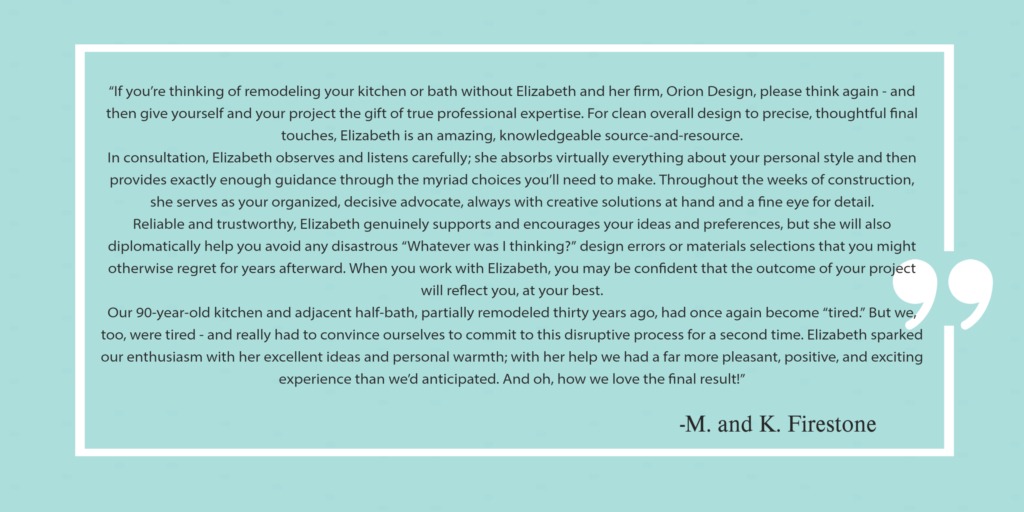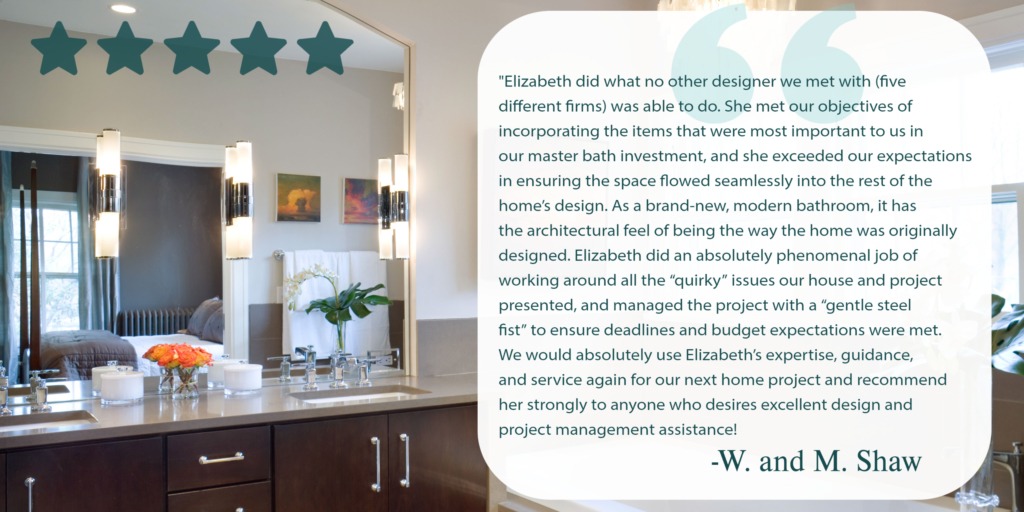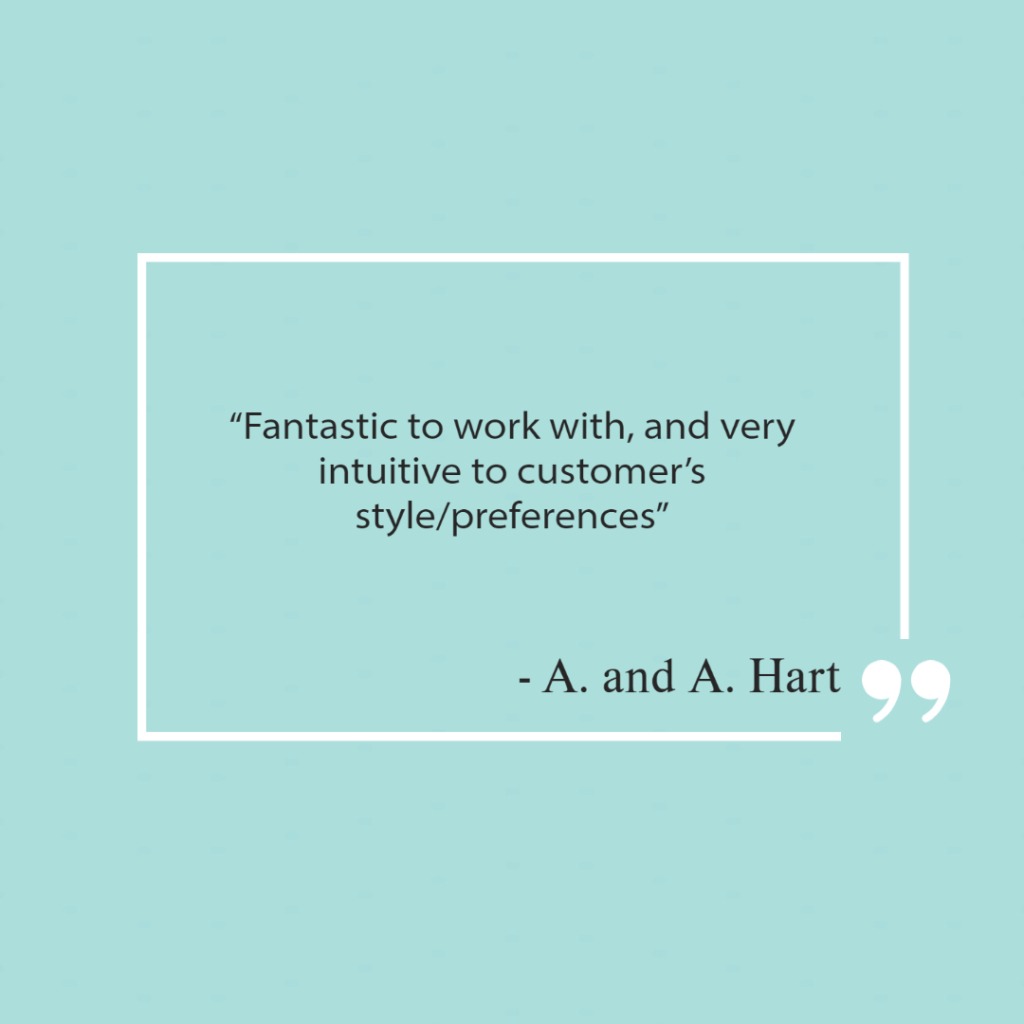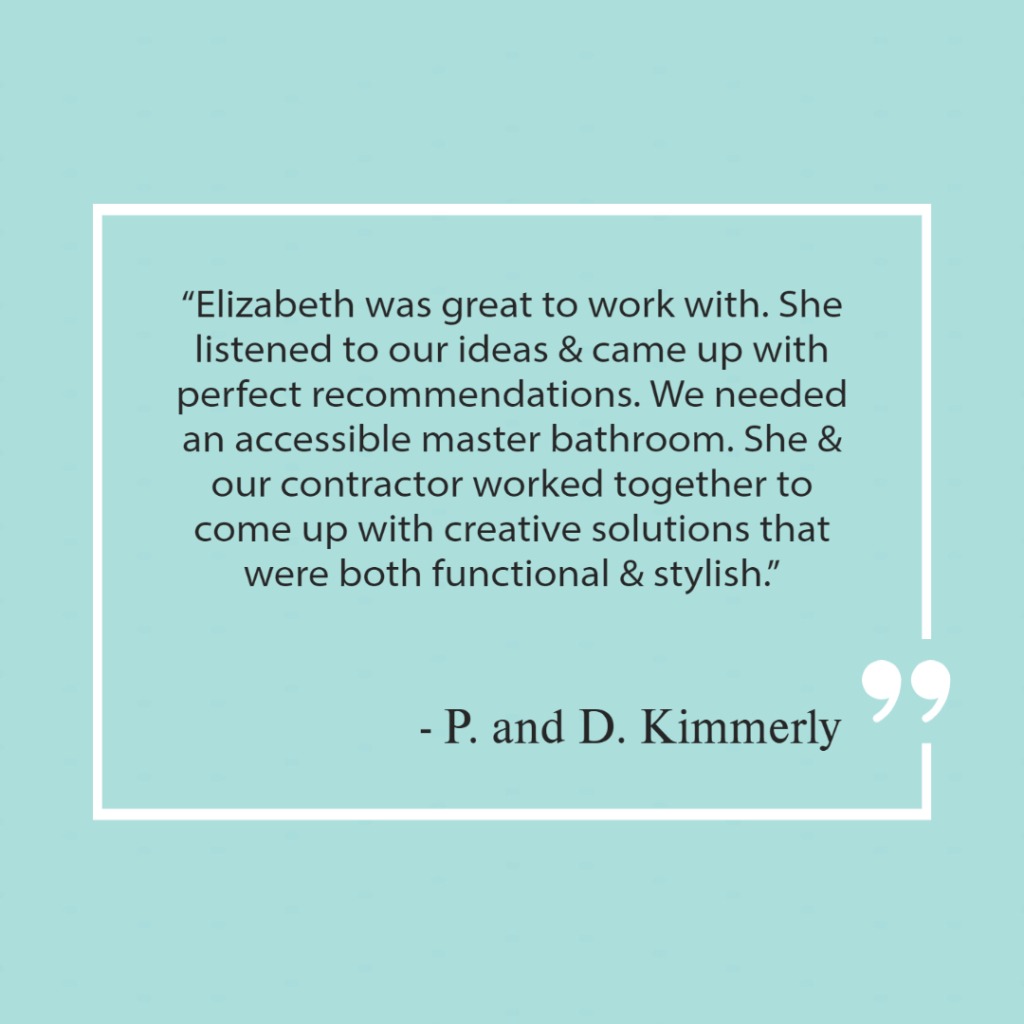 ---
Below you'll find an assortment of testimonials that were graciously shared with us, but you can always find all of the latest reviews on our Houzz profile.
---
How do we love Elizabeth? Let us count the ways. Not necessarily in order, they are:
She listens. Sound simple? Perhaps, but it's an attribute that seems to be rapidly disappearing from the workplace.
By listening, she strove to satisfy our needs and wants rather than superimposing her personal design preferences.
She is an incredibly talented designer, whose renderings are not only skillfully and beautifully done, but also successful in removing a lot of the mystery and anxiety about how the completed project will look.
She was great in terms of staying within our budget, never attempted to introduce budget-busting materials, and found some creative ways to help us keep costs down.
She was a delight to work with and be in the company of because her positive attitude and good-natured spirit are positively infectious.
Her attention to detail and follow-up throughout the entire design, construction, and post-construction process were exceptional.
We ventured into our very first remodeling project by gutting our master bath and rebuilding it with Elizabeth's able assistance. The end result exceeded our expectations and has generated a slew of compliments. As a result, we would recommend Elizabeth for any design or design/build project. We're confident you will not be disappointed.
– Don and Shirley, Shawnee KS
---
Dear Buffy,
Thankyou's aren't enough for your expert talent, professionalism and of course Beautiful Design of our new kitchen at our ocean front home in Hull, MA.
We worked so well together, I enjoyed every moment of the process with you. You were so precise, confident and reassuring throughout the entire design process.
You leave Abraham and myself with a wonderful and possitive experience and of course the most Beautiful Kitchen that fits our home, personalies and lifestyle.
We look forward to the future, hopefully the next phase is just around the corner.
In appreciation and friendship,
Audrey
– Abe and Audrey, Hull MA
---
Choosing Elizabeth Goltz as our designer was the smartest decision we made with regards to our kitchen remodeling. The first time we met with Elizabeth we were thoroughly impressed with her knowledge of all elements of the design and construction of a kitchen. Her attention to details and professional expertise is exceptional.

She made the entire process so much easier. Selecting the appliances was a major task and we were concerned about making all the appliances look right together without sticking to one brand. We were very relieved when she told us to pick out what we wanted; that she would make it all look good – and she did! She always made herself available when we needed assistance with some decision and she always had the right answer.

We were so fortunate to have the benefits of Elizabeth's talent and realized this fact many times during the renovation. She designed our kitchen to meet our needs and what was right for us – rather then being trendy or what everyone is doing now. Yet, the results are very up to date and stylish. Under her guidance, the remodeled kitchen blends seamlessly with the rest of our home. The new kitchen looks like it has always been a part of the house.

We are thoroughly pleased with our new kitchen!
Rod and Judy, Shawnee KS
---
To those who are looking for a successful remodeling job:
I had been looking for a contractor, builder, designer ( someone!) to do what I knew would be a major remodel of our bedroom, utility room, kitchen, and misc other areas of our old house. My husband and I happened to be at the home remodeling show in downtown KC when we happened upon Elizabeth Goltz Rishel, who was working in one of the remodeling booths. We told her about our project, and from the very beginning I had a sense that she was the right person for our job. She just knew the right questions to ask which gave me a sense of her confidence and enthusiasm to work on our particular project.
Finding the best person to do your remodel job is so difficult, and so personal. There needs to be the right chemistry between home owner and builder/designer. I listed below some of the things I liked about working with Elizabeth. I hope this will help you in sorting out what is important to you in choosing a contractor/designer.
High Standards. I must add here that I am extremely picky about who I hire to do anything on my house, and I have very high standards. Elizabeth reassured me that she had very high standards also and I thought "yeah, that is what they all say". But I soon found out that she was exactly right, and many times her standards were higher than mine. This was one of the most important requirements I had for hiring a contractor! I was so relieved to be working for someone who didn't settle for the " B" team! Elizabeth uses the "A" team.
Same Aesthetic. I also knew that I wanted to be very involved in the style/ design /look of the remodel, so I need someone who was OK with me involved in a lot of the decision making of materials and products. I showed Elizabeth a few ideas I had in mind, and from that she was able to catch on to the " look " I wanted. This was so important to me! We connected in our aesthetics! It is important when you think of all the thousands of visual decisions required in any remodel job. We saved so much time with Elizabeth first previewing things, then showing me what she had narrowed down to in order that I could choose from a selected few. Many times she would choose something, like say, a tile for the floor, and she would pick the exact thing I was thinking of, without me saying a thing. Another example: I was looking for kitchen cabinet pulls for weeks and couldn't find what I wanted. One day Elizabeth came over to show me a pull she had picked up because she thought it would work…and it was perfect! Decision made!
Organized. I needed someone who was organized mainly because I am not! I really needed help in this area. Elizabeth is extremely organized. I could relax because not only did I know someone was taking care of organizing subs and money, deliveries,and appointments, but she also had an excellent memory for things we already did, what needed to be done, and who did them. Many, many details to keep track of, all at the same time. And she would update me in a timely way. And speaking of timely, she kept to a schedule (as much as possible working with so many subs- this part was important to my husband).
Professional. Especially when problems would arise, as they sometimes do in remodeling, I was impressed by the way Elizabeth handled not just the problems, but the people involved. She was always very professional; and would calmly, but firmly work things out with subcontractors, wholesalers, factories, etc. She was amazing for smoothing things out so that we were happy with the results. This was important to me, as I know I was probably the most difficult one she had to work with! I appreciated her patience in all of the above.
Creative Problem Solving. Probably the thing I liked best about working with Elizabeth was that she was so open to ideas….she would never say never! I loved this! I felt free to throw anything out there on the table…why not? There are so many examples where others would say "no, you can't do that because…" where Elizabeth would say " let's look into it, maybe there is a way…" And on several occasions she would creatively find a way and make it happen. Much of what Elizabeth does is not in the book, it is unique, it is pure creative problem solving. A very good thing to have if you are a designer.
Hope you find this helpful! May your remodel turn out wonderful…and I think it will if you use Elizabeth!
– Dennis and Susan, Kansas City MO